The power politics behind effort to save Moscow's Khimki forest
A protest to stop road-building in the formerly protected Khimki forest near Moscow is gaining traction. Russian analysts say there's more to it than simple environmental concerns.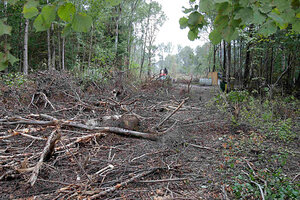 Alexander Natruskin/Reuters
A small band of Moscow-area environmentalists fighting to prevent the destruction of a local forest by road-builders rallied on the Kremlin's doorstep Thursday to ask President Dmitry Medvedev to honor his pledge to take their concerns into account.
In contrast to other recent Moscow protests, which have been broken up by massed ranks of riot police, Thursday's gathering of a few dozen activists was allowed to meet peacefully in the central Slavyanskaya Square.
The group's leader, Khimki businesswoman Yevgenia Chirikova, was permitted to deliver to Kremlin officials a petition urging Mr. Medvedev to stop the arrests of environmental activists and seizure of their newsletters by Khimki authorities and ensure that "honest" hearings on the issue are allowed to take place.
"We are facing a campaign of suppression, slander, and lies orchestrated by local authorities," Ms. Chirikova says. "We tried to explain our position in a special edition of our newspaper a few days ago, but police seized every copy. Nine of our activists, and two journalists, are currently in court and facing prison sentences just for speaking out about this issue."
---