Pope Benedict XVI extends hand to a wary Britain
Pope Benedict XVI arrived in Britain today for the first papal trip there since 1982. The visit is clouded by recent sex-abuse scandals and is being met with a distinct lack of reverence.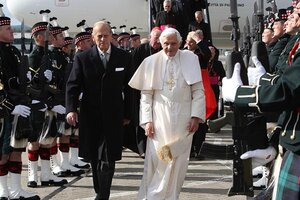 Andrew Milligan/AP Photo/Pool
Pope Benedict XVI today made one of his frankest admissions of church failings in priestly sex abuse of children, telling reporters en route to a controversial papal visit to Britain that the Roman Catholic Church was not "sufficiently vigilant" and "not sufficiently swift and decisive."
The pope arrived in Edinburgh, Scotland, today and visited Queen Elizabeth to kick off the first papal visit to Britain since 1982. The trip comes a year after Pope Benedict offered quick Catholic conversions to members of the Church of England who were "disillusioned" with their faith. But the visit is being discussed in Britain more in the context of recent priestly child-abuse scandals.
Secular, diverse, and worldly Britain is the kind of modern society that the pope has wanted to reach with his message urging deeper religious tradition and faith. In his first speech this morning, the pontiff extended the "hand of friendship" to British people.
But despite an itinerary of bagpiper parades and meetings with current and former heads of state, the British aren't swooning. In fact, there's a distinct lack of reverence in the air. A Times of London poll this week shows favorable opinion for the pope's visit in Britain at only 14 percent.
---