Why Russia wants 'Enemy No. 1' Akhmed Zakayev back
Russia considers Chechen separatist Akhmed Zakayev, picked up in Warsaw today under an international arrest warrant, as 'Enemy No. 1.'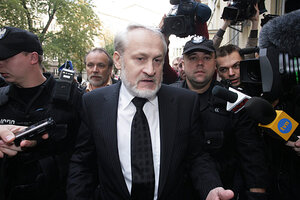 Reuters
Russia is demanding that Poland turn over Chechen separatist Akhmed Zakayev, who was detained in Warsaw Friday under an international arrest warrant.
Mr. Zakayev, whom Moscow describes as "Enemy No. 1," had been placed on an Interpol "red notice" wanted list by Russia for alleged involvement in terrorist acts. Polish authorities said Friday they detained him as he arrived to attend an international conference of Chechens, pursuant to their international legal obligations.
Many analysts say Zakayev, an exiled former rebel field commander, has no involvement today with a movement that has shifted from separatism to militant Islamist ideology. In fact, the new Chechen insurgent leader has denounced him as a traitor. But the momentum for his extradition order is unchecked – if only because he remains, in Russian eyes, a symbol for a Chechen cause that has taken the lives of hundreds of Russian civilians.
"Zakayev was Chechnya's representative abroad in 2002, when the theater siege happened in Moscow, and he voiced his solidarity with the terrorists," says Alexei Makarkin, director of the independent Center for Political Technologies in Moscow. "From that moment, Russia began to demand his extradition....
---