Russia's Putin says he wants peaceful division of Arctic
At a conference that included the US, Canada, Denmark, and Norway, Russian Prime Minister Vladimir Putin said the area should be a 'zone of peace.' But Russia is bolstering its claim to a large tract of the Arctic seabed.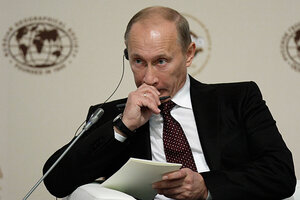 Mikhail Metzel/AP
Russia is staking its economic future on its controversial territorial claim to a huge slice of the fast-melting Arctic, which holds up to a quarter of the world's untapped energy resources, and is set to launch an unprecedented diplomatic campaign to achieve its goals.
But despite a bit of saber-rattling in the past and a boisterous 2007 expedition that planted a titanium Russian flag under the North Pole, Prime Minister Vladimir Putin insists he wants to see a peaceful division of the Arctic and its resources with neighboring states, as well as an ecologically friendly approach to development.
More ominously, he and other Russian officials say they also expect the United Nations to approve Russia's "scientifically grounded" claim to own a vast 1.2 million sq.-km. tract of Arctic seabed, including the North Pole, on grounds that the still largely unmapped Lomonosov Ridge, the mountain range that underlies much of the Arctic, is a natural extension of Siberia's continental shelf.
"We think it imperative to keep the Arctic as a zone of peace," Putin on Thursday told a Kremlin-sponsored northern development conference, which included 300 scientific specialists and official representatives from the four main Arctic countries besides Russia: Canada, the US, Denmark, and Norway. "Very serious economic and geopolitical interests intersect in the Arctic, but I have no doubt that all the problems existing in the Arctic, including problems over the continental shelf, can be resolved in an atmosphere of partnership."
---