Why French unions don't want to wait until 62 to retire
French unions rallied again in protest of President Sarkozy's proposal to increase the minimum retirement age to 62.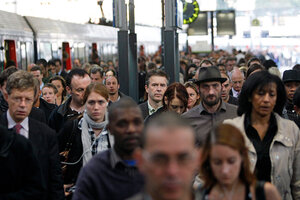 Jacques Brinon/AP
French workers took to the streets today for the second time this month in a massive and colorful protest against the government's plans to raise the minimum retirement age from 60 to 62.
In Paris, tens of thousands of demonstrators of all ages wound their way through the city center singing protest hymns and waving banners that bore slogans such as "Prisoners of work" and "Time to retire Sarkozy, racist," in a reference to the controversy over Roma expulsions. There were similar marches in towns and cities across France, and in major centers the strikes created havoc for travelers. About 50 percent of national and regional trains and flights at French airports were canceled.
Organizers considered the protest crucial in their fight against the pension reform, but it was unclear who won this round. Unions said the turnout was even higher than demonstrations earlier in the month, when between 1 million and 3 million people protested, but police estimates put it much lower and a statement from the Elysée presidential palace said that showed the French are ready to put the debate behind them.
But many workers say they're prepared to stay the course, in spite of perceptions that they are simply too lazy to accept what would still be the lowest retirement age in Europe.
Two years too many, workers say
Jean-Pierre Lesouef, an electronics manager at the transportation giant Thalys, says he has already worked for 37 years and is too tired to work into his 60s.
"I've had enough," he says. "When you're at my age and you've worked as long as I have, you see if you want to work another two years."
Some experts say complaints like Mr. Lesouef's go a long way toward explaining why the proposal to add an extra two years to French working life has caused so much upset.
Why French workers might not be the happiest
---