Mayor Luzhkov ouster: sign of crack in Putin-Medvedev unity?
Russian President Medvedev's scorching dismissal of Moscow Mayor Luzhkov could be opening shot in a bureaucratic battle between Putin and Medevev over who will be the establishment candidate for president.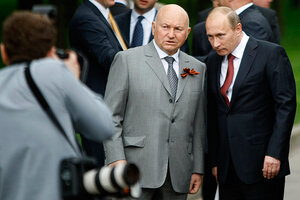 Mikhail Metzel/AP/File
Yesterday, Yury Luzhkov was the powerful mayor of Moscow. After almost two decades in office, he was Russia's longest-serving leader, married to the world's third-richest woman, and one of the country's few politicians able to claim at least a quasi-independent base of support. He never lost an election.
Today, following a scorching dismissal by President Dmitry Medvedev, he's just "Citizen Luzhkov." Last month, Mr. Luzhkov made the mistake of calling Mr. Medvedev "indecisive" in a newspaper article, and later bragged about his ability to get out the vote for the pro-Kremlin United Russia party. In true Soviet style, the Kremlin now expects him to fade away to his country dacha – or perhaps his wife's Austrian chateau – and never be heard from again.
But will he?
Medvedev made himself very clear in his decree, signed during a state visit to China on Tuesday, which said Luzhkov was being "dismissed from the position of Moscow mayor because he has lost the trust of the president." That wording is almost unheard of in Russia, where strict obedience to the Kremlin script is mandatory, and top leaders typically prefer to say they are granting an official's request to resign due to reasons of "ill health," or some such.
---