Anti-austerity strikes roil Europe, but many see cutbacks as inevitable
In Spain, anti-austerity strikes led to minor violence and arrests, but many Spaniards appear to have begrudgingly accepted austerity measures to help cope with crippling debt.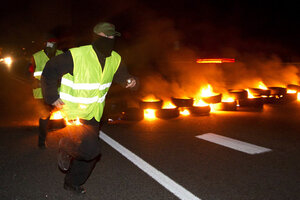 Lalo R. Villar/AP
Spaniards on Wednesday largely shunned the country's first general strike this decade against the government's austerity measures, despite coping with Europe's worst unemployment rates and one of the deepest and longest recessions.
The 24-hour stoppage – called to protest labor and pension reforms as well as deep cuts in government spending to reduce a ballooning public deficit – appeared to be confined to large industries, some public services, and the transit sector.
But most private businesses were open, and many of the employees who showed up for work appeared split in their view of the austerity reforms, in a sign that while Spaniards don't like the idea of cutting social benefits, many are accepting it as inevitable.
Spain is not the only country facing public frustration over austerity measures. France has had several strikes this year, as has Greece. On Wednesday, tens of thousands marched in a dozen European capitals to protest reforms throughout the Continent. In Brussels, police said some 56,000 had marched.
Unions pledge to press on
---