Alberto Contador: How strong is the doping case against him?
Alberto Contador, winner of this year's Tour de France, tested positive for a banned substance during the race. The cycling superstar says he was a victim of food contamination.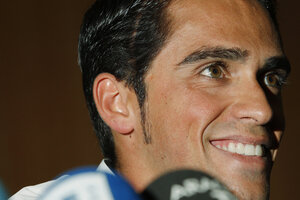 Andres Kudacki/AP Photo
Alberto Contador, cycling's brightest star and a lynchpin of its post-doping rebound, has been suspended from the sport two months after winning his third Tour de France.
The international cycling federation, UCI, announced today that traces of the banned drug clenbuterol had been found in Mr. Contador's sample from July 21 – the second and final rest day of this year's grueling Tour. He went on to beat Andy Schleck of Luxembourg by a mere 39 seconds after 2,262 miles of racing.
If Contador is charged with doping he could become only the second rider ever to be stripped of his Tour title – following US cyclist Floyd Landis's fall from grace in 2006. Clenbuterol use carries a two-year ban.
But such a result is far from certain in this case.
Contador blames meat he ate
Illustrating the complexity of the case, the "adverse analytical finding" by the German lab responsible for doping controls at this year's Tour was only revealed to Contador on Aug. 24. The UCI took another month before announcing his suspension and an ongoing investigation could take months to yield a final result.
---