Alberto Contador, on the verge of tears, denies doping allegations
Alberto Contador, the reigning Tour de France champion, told reporters in his hometown how he believes traces of a banned drug showed up in his urine July 21.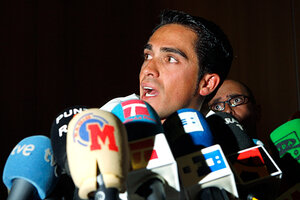 Andres Kudacki/AP
The three-time winner of the Tour de France, Spanish cyclist Alberto Contador, is sure the minute traces of a performance-enhancing drug found in his urine came from a steak that a friend gave him during this year's race.
Mr. Contador, whose positive test came on a rest day, could not deny himself "really good meat" that a friend of his had brought to France, considering "all the trouble that this person had gone through."
Four other cyclists from his team also had their share of the same meat the day before Contador's test, but none of them had been tested for doping. A Dutch doctor consulted by Contador's attorney said that the cyclist could have ingested clenbuterol since it's known to be an illegal growth agent in cattle.
Contador stands to lose his title if the International Cycling Union (UCI) and the World Anti-Doping Agency (WADA) rule that he knowingly took performance-enhancing drugs. An investigation is currently under way.
In an emotional press conference, cycling's superstar defended his innocence and called into question an antidoping regime that has not only helped clean up sport but has also raised questions about whether its rigidity has ensnared innocent athletes.
"I'm the victim," said Contador, on the verge of tears from his hometown of Pinto, in the outskirts of Madrid. "I could have written a script, but my script is the truth. I trust that [regulating bodies] will confirm this case. I understand that it is not easy for them because it questions their rules."
'This is an authentic mistake'
---