Ukraine court reverses Orange Revolution, hands president more power
Ukraine's Constitutional Court essentially nullified the amendments that paved the way for greater democracy after the Orange Revolution, giving the pro-Russia president greater powers.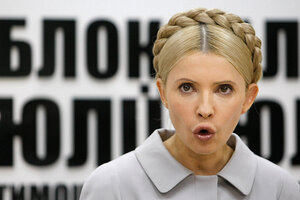 Konstantin Chernichkin/Reuters
Ukraine's Constitutional Court handed down a politically explosive ruling Friday, declaring "illegal" a complex deal that peacefully ended the Orange Revolution six years ago by redistributing power from the presidency to the more broadly based parliament.
Supporters say Ukraine needs a strong hand to guide it through economic and political crisis. But critics say the decision will enable President Viktor Yanukovich, who was elected in a hard-fought contest in February this year, to rapidly consolidate power and carry out a far-reaching political agenda.
That agenda has included repairing Ukraine's tattered relations with Moscow, ending its bid to join the Western military alliance NATO, and perhaps seeking to give Russian – spoken by nearly half of Ukrainians – official language status.
---