Why Russia's Medvedev is lashing out at Belarus's Lukashenko
Russian President Dmitry Medvedev slammed 'Europe's last dictator,' Belarussian leader Alexander Lukashenko, this past week for his increasingly anti-Russian rhetoric.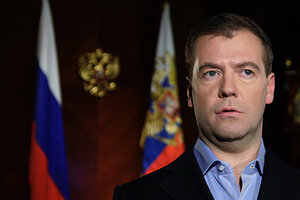 Dmitry Astakhov/Kremli/Ria Novosti/Reuters
A vitriolic and very public war of words between Belarus and Russia has observers wondering whether the Kremlin is finally preparing to abandon its long time support for Belarussian leader Alexander Lukashenko, who is usually remarked of in the East as "Russia's only ally" and in the West as "Europe's last dictator."
The Kremlin has been dissatisfied with Mr. Lukashenko, who talks like Moscow's best friend but actually goes his own way, for quite some time.
Last June, Russia jacked up energy prices paid by Belarus and allowed critical coverage of Belarus' authoritarian regime to appear on Russia's state-run TV for the first time. But some intemperate comments about Russian President Dmitry Medvedev made by Lukashenko to a gathering of journalists in Minsk last week may have been the last straw.
Lukashenko, who is running for a fourth term in polls slated for Dec. 19, might have just intended a bit of Russia-bashing for domestic consumption by complaining of the "flow of unscrupulous lies, disinformation, and utter nonsense" about Belarus in the Russian media and suggesting that Kremlin leaders "don't know very much, or maybe they're just not interested."
Medvedev's furious reaction
But it drew a furious reaction (watch English video here) from Mr. Medvedev, who suggested on his weekly videoblog that the days of Russian subsidies to Belarus – estimated to be worth around $8 billion annually – may be over.
---