Will Hungary's toxic red sludge spill extend beyond Danube?
Hungary's toxic red sludge spill reached the Danube today at toxicity levels beyond what environmentalists expected. Will it threaten the Black Sea?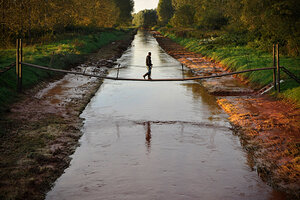 Bela Szandelszky/AP
Hungary's Prime Minister Victor Orban today made a guarded request for international help to contain the environmental damage from the 35 million cubic feet of toxic red sludge that burst from an alumina refinery earlier this week.
The spillage, which gushed from the Ajkai Aluminia Refinery after the dam for a containment pool burst, reached the Danube, Europe's second-longest river, earlier today at higher concentrations of toxic material than environmentalists had expected.
IN PICTURES: Hungary sludge flood
Earlier this week, the wave of red sludge submerged streets, houses, and fields over an area of around 2,000 acres, draining into water systems. The sludge, or "red mud" as it's called in the refining industry, now threatens to become a cloud of toxic dust as it dries. Prime Minister Orban today said that many local residents would not be able to return.
Level of toxicity
The first of the pollution reached the Danube at midday today at an alkaline level of pH 9 (a healthy, neutral river pH is a little over 7).
The pH level is "much higher" than expected, says Gabor Figeczky, acting CEO of the World Wildlife Fund, Hungary. Anything over pH 7, says Mr. Figeczky, "will have severe effects."
When the sludge rushed into the Marcal River, it had a pH level of 13. The Marcal River is a "dead river," says Zsolt Szegfalvi, director of Greenpeace Hungary. Natural life was "completely wiped out."
---