Anna Chapman, glamorous Russian spy, bids farewell to astronauts
Anna Chapman, the Russian spy deported from the US, is living the life of a celebrity at home, defying espionage convention and casting doubt over whether she was ever a real spy.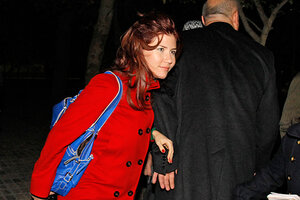 Dmitry Lovetsky/AP
Anna Chapman, the glamorous spy who came in from the cold, appears determined to break out of the seclusion that is traditionally imposed on retired Soviet and Russian agents and find herself a place in the sun.
Clad in a hot red jacket and tight-fitting black slacks, Ms. Chapman was today spotted smiling and waving at the former Soviet space launch center Baikonur, in Kazakhstan, as she attended an exclusive farewell ceremony for Russian cosmonauts Alexander Kaleri and Oleg Skripochka and American astronaut Scott Kelly. The team later blasted off for the International Space Station in a Russian Soyuz TMA-M space vehicle.
Since being repatriated from the United States three months ago along with nine other alleged Russian agents in a classic cold war spy swap, she has made a mockery of the old KGB dictate that retired spies should fade away into anonymity, leaving nothing but a glorious public myth behind.
---