French Muslims feel increased scrutiny amid terror concerns
Many Muslims in France feel increasingly targeted amid growing terror concerns and what some see as anti-Muslim measures, such as the banning burqas in public.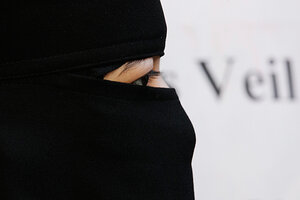 Luke MacGregor/Reuters
L'Ile Saint-Denis, France
There are more pitas eaten here than baguettes, more halal fast food joints than Parisian specialty chocolate shops. A mere three stops away on the fast RER train from the exclusive clothes boutiques, the world-renowned museums, and the elegant rare bookstores, one disembarks and finds a different Paris.
L'Ile Saint-Denis, north of Paris, is a suburb of hip-hop clubs, discount beauty stores, and hard-working immigrants. There are Moroccan women with head coverings shopping for fruits, Tunisian merchants selling sweets and olives, Congolese and Senegalese playing a game of football in the park, and bearded Pakistanis chatting over tea at the corner shop.
Many of these people are second-generation immigrants, sons and daughters of those who came here in the big immigration wave of the 1960s. This generation was born right here in France – they speak French and hold French citizenship exactly like any old-timer in a beret feeding the pigeons in the Jardin du Luxembourg.
But, they say, they are still treated differently.
"Look at what is happening now," complains Kinaz Dicko, a devout Muslim whose parents immigrated to France from Mali. "There is a security alert – check. There are new rumors about Muslim militants and a few arrests – check … and immediately we are all tarred with the same brush: terrorism. Check."
---