Hungary arrests executive connected to red sludge spill
Hungary's Prime Minister said the managing director of the aluminum company whose plant spilled red sludge into a residential area, killing eight, has been arrested.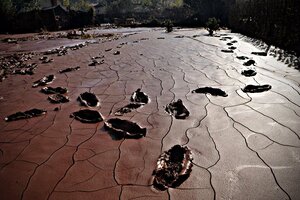 Bela Szandelszky/AP
Hungarian police today arrested the managing director of the aluminum company behind the spill of toxic sludge that killed eight people, drove dozens from their homes and threatened to pollute the Danube River.
The arrest of Zoltan Bakonyi, managing director of MAL, was announced in parliament by conservative Prime Minister Viktor Orban. He added that the company should be "placed under state control" to ensure it rather than taxpayers foot the bill for the cleanup.
"Hungary's biggest ecological disaster was caused by human negligence, the escape of a hazardous material from a plant built and run by people," Mr Orban said. The spill occurred after a holding pond for red mud -- a byproduct from the production of alumina, which in turn is used to produce aluminum -- collapsed.
A police statement said Bakonyi had been brought in "for interrogation in connection with the mud disaster that caused the death of a number of people." He can be held for 72 hours before any charges are pressed.
---