Schwarzenegger adds muscle to Medvedev's vision for Russian Silicon Valley
California Gov. Arnold Schwarzenegger arrived in Russia this week along with executives from Google, Microsoft, and Oracle to give a boost to Russia's burgeoning tech sector.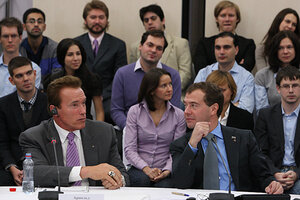 Mikhail Klimentyev/ Presidential Press Service/ RIA Novosti/ AP
On his last visit to Russia, Arnold Schwarzenegger promised he'd "be back."
So, not surprisingly, Russians – who are huge fans of the "Terminator" movies – swooned with delight when the soon-to-retire California governor arrived in Moscow for a three day visit Sunday and, in that steely voice, deadpanned: "I came back."
Upon his arrival, Mr. Schwarzenegger tweeted: "Just landed in Moscow. Beautiful day. Can't wait to see Pres Medvedev."
Russian President Dmitry Medvedev, a self-described computer geek who reportedly loved his tour of Silicon Valley last June – a visit that ended amid one of the worst US-Russia spy scandals in history – responded: "@Schwarzenegger, welcome to Moscow. Looking forward to meeting you and your delegation at @skolkovo."
By all accounts, Schwarzenegger's visit was a PR triumph, garnering more adoring Russian media attention than many official visits by heads of state (see Russia Today coverage here and here) as well as more Kremlin face time with Medvedev than most ever get.
---