Spain-Venezuela ties strained as Hugo Chávez stonewalls ETA investigation
Venezuela has said it will not extradite Arturo Cubillas, an alleged top militant of the separatist group ETA. Spanish authorities today moved toward an official request, which Hugo Chávez is unlikely to support.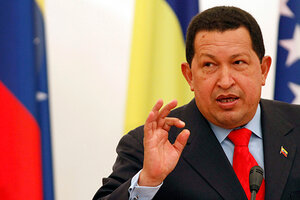 Konstantin Chernichkin/Reuters
A standoff between Spain and Venezuela is heating up as Spanish authorities move toward requesting the extradition of an alleged ETA member working within the government of President Hugo Chávez.
Venezuela said last week it would not extradite Arturo Cubillas, the Basque separatist group's alleged top militant in Latin America, because local law does not allow extraditions of citizens. A Spaniard, Mr. Cubillas became a naturalized citizen in 1993.
But the decision of Spain's prosecutor general to ask today for the National Court to request the extradition underscores how authorities are under pressure to act more forcefully against Mr. Chávez. His defiance and ongoing refusal to cooperate with Spanish authorities could ultimately trigger a powerful reaction from Europe and the United States, including labeling the country a state sponsor of terrorism, analysts say.
"If [the Spanish government] wanted to, it could pressure Europe and its allies, including the US, to include Venezuela in the list of state sponsors of terrorism," says Oscar Elía, an ETA expert with the Madrid-based Strategic Studies Group who has written extensively about the Basque group. "This could blow over if Chávez was more helpful, but he doesn't even deny it. Instead he is defiant and arrogant."
---
Follow Stories Like This
Get the Monitor stories you care about delivered to your inbox.