Eye on public support, striking French unions question just how long to protest
As French strikes over pension reform take a deeper toll, union leaders are reportedly divided over how long they can and should continue protests. The Senate today debated the proposed rise in retirement age.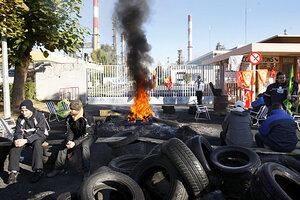 Remy de la Mauviniere/AP
French protesters today continued cat-and-mouse tactics to block fuel shipments from oil depots, as President Nicolas Sarkozy vowed to punish street violence and France waits to see if momentum against pension reform will survive upcoming holidays and a Senate vote.
The French Senate today debated a rise in pension age from 60 to 62 and a full payment age rise from 65 to 67. The government appears to believe that oil shortages, the holidays, youth violence, and what is likely an affirmative vote on the pension bill will combine to suck the air out of anti-establishment strikes that date to last month.
Amid reports that lawmakers' vote may be delayed until next week, pensions minister Éric Woerth is pushing today an unusual "blocked vote" procedure in which the French Senate would vote straight up on the bill as it stands, as early as tomorrow, and not debate some 250 remaining amendments – a tactic likely to enrage the Socialists, who would be powerless to stop it.
French police since yesterday have been removing protesters blocking the nation's 200 oil depots, only to find they show up later to re-block them. France's 12 oil refineries are closed by a radical cadre of workers requiring use of the depots. Fewer French gas stations are closed, according to Energy minister Jean-Louis Borloo, who qualified his remarks by saying the situation is "really improving, but slowly."
---