Will WikiLeaks nudge US toward tougher laws to guard secrets?
Britain has one of the most far-reaching laws against the release of state secrets. With the official US outcry over the latest WikiLeaks document dump, will Congress borrow from the Brits?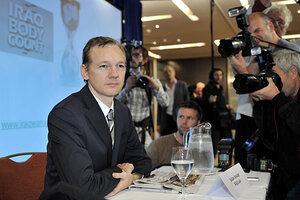 Lennart Preiss/AP
In the aftermath of another massive document dump by WikiLeaks founder Julian Assange, could the United States adopt a tougher British standard for dealing with the unauthorized release of state secrets?
While the Pentagon says it's weighing criminal charges against Mr. Assange, who last week released 400,000 pages of US documents about Iraq, had he dropped documents about British military operations, Assange and his source could be jailed under the Britain's Official Secrets Act.
Daniel Ellsberg, the former military contractor who leaked the 1971 Pentagon Papers, a top secret study of US government decision-making during the Vietnam War, suspects the latest WikiLeaks release will encourage new legislation to keep US secrets under wraps.
---