EU leaders set for clash over financial reforms, Lisbon Treaty
At a two-day meeting in Brussels that opened today, Germany is set to make a high-stakes bit to amend the EU's Lisbon Treaty in order to make financial checks permanent.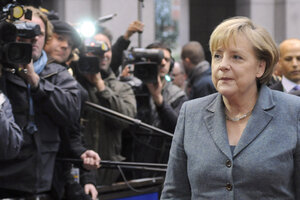 Thierry Charlier/AP Photo
The German government of Angela Merkel plans to make a bold and highly controversial bid at a European Union leaders summit today.
It will push for amending the unifying Lisbon Treaty to create a permanent "automatic" stability mechanism that would sanction eurozone countries that do not keep their finances in order. Offenders would lose EU voting power until they are compliant.
The German bid, which is to be officially presented Thursday and Friday, has already been met with plenty of gnashing of teeth. It's also raising fresh questions about a new harder-line approach to the EU by Germany, Europe's most powerful country.
Germany, the financial engine of Europe, has lost some of its ardor for the euro – and it no longer appears willing to pay for the excesses of other members, such as Greece.
The German proposal, which also has the backing of France, has raised the ire of smaller EU countries since it comes as emergency debt measures are also to be considered. European Commission deputy chief Viviane Reding called the move "irresponsible." Leaders in Ireland and Luxembourg also oppose the plan.
---