What Britain's cuts mean for its place in the world
Britain made deep cuts to social services, government jobs, welfare benefits, and defense spending in order to reduce a mounting deficit. The cuts could dramatically reshape British society.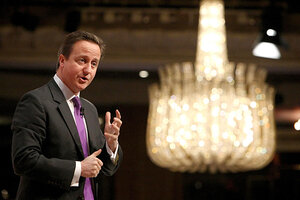 Dominic Lipinski/pa/AP
While cars smoldered in France following protests over pension reform, across the English Channel, Britain was digesting the harshest cuts in government spending and benefits since World War II, which promise to redefine the state and recast its position in the world.
As governments across Europe grapple with deficits following decades of big spending, Britain's answer is a radical five-year austerity plan that slashes social services, government jobs, welfare benefits, and defense spending. It will retire naval aircraft carriers, trim military ranks, cut about 500,000 public-sector jobs, and drastically reduce spending for the poor and elderly.
Critics and supporters alike call the cuts historic, placing Britain in the vanguard of a retreat from Keynesian economics and setting in motion a massive social experiment in which citizens, nonprofit groups, and the private sector will be expected to fill the void left by the state.
Some say the new spending plan, which was announced Oct. 20 and aims to reduce spending by $125 billion in five years, marks Britain's retreat from decades of punching above its weight and accepting a much smaller position in the world.
"Today is the day when Britain steps back from the brink, when we confront the bills from a decade of debt," said the controller of Britain's purse strings, Chancellor of the Exchequer George Osborne, as he outlined cuts of 19 percent on average across government departments.
Along with tax hikes, the cuts are designed to allow the government to start repaying debts that are expected to reach $1.4 trillion (70 percent of gross domestic product) in the next few years. But to many, the depth and speed of the cuts risk tipping the country's fragile economy back into recession, while some experts doubt the government's insistence that the private sector will power an economic recovery.
---