Istanbul suicide attack highlights Turkey's struggle with militant groups
There was no immediate claim of responsibility for the Istanbul suicide attack in the heart of the city, which injured 17 civilians and 15 police, Sunday.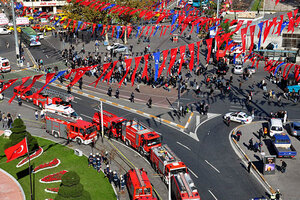 Hurriyet/AP
A suicide bomber targeted Turkish police in the heart of Istanbul on Sunday, killing himself, injuring 32, and prompting police gunfire.
Chaos erupted midmorning in Taksim Square, the popular shopping and pedestrian center of Turkey's economic capital, when a male suicide bomber detonated plastic explosives while attempting to board a bus full of riot policemen, authorities here said.
There was no immediate claim of responsibility, though a unilateral cease-fire declared by Kurdish PKK rebels 2-½ months ago was set to expire on Sunday. Turkey is also home to an array of small non-Kurdish militant groups, from those on the far left to right-wing nationalists to Islamists.
Authorities suggested that they had clear suspicions about which group was responsible, and why, but would not be immediately drawn out on who was to blame.
RELATED: 7 most controversial UN speeches, from Ahmadinejad to Khrushchev
"Those who threaten Turkey's peace, security, and development will not be tolerated," said Turkish Prime Minister Recep Tayyip Erdogan, a former mayor of Istanbul, in a speech in Mardin, in the mostly Kurdish southeast. "These kinds of attacks will not stop Turkey reaching its goals of peace, brotherhood, and development. We are together; we are brothers."
Which group carried out the attack?
Istanbul's Governor Avni Mutlu said a "terrorist organization" was behind the attack, but gave no further details about who was responsible.
---