Britain tightens air security after Yemen bomb scare, renewing civil liberty concerns
After criticism of its initial response to the threat of Yemeni cargo-hold bombs, Britain is moving to close loopholes surrounding freight transportation and tighten vetting of travelers.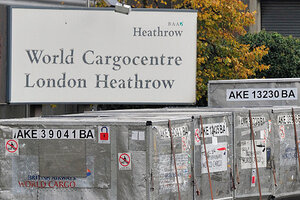 Toby Melville/Reuters
Smarting from criticism of its initial response to the threat of Yemeni cargo-hold bombs, Britain is now moving not only to close off potential loopholes surrounding freight transportation but also to tighten its vetting of travelers.
"We are doing all we can to make sure that there are no gaps in our defenses," said Home Secretary Theresa May on Monday as she outlined US-style procedures such as no-fly lists for suspected terrorists and passenger profiling alongside the banning of unaccompanied air freight from Yemen.
After a bomb originating from Yemen was detected at a British airport in a cargo plane as a result of an intelligence tip-off rather than from scanning, the British government was left scrambling.
TOP 5 attacks linked to Yemeni cleric Anwar al-Awlaki

Despite the renewed spotlight on an Al Qaeda threat, security hawks in Britain are hardly being praised by the public.
In fact, an increase in airport security is fueling a growing backlash from travelers and the airline industry just as, coincidentally, the government faces an emerging rebellion from libertarian-minded MPs in its own ranks over the retention of what are widely perceived as draconian counterterror measures in the wider society.
At the heart of the debate
Enter the issue of "control orders," essentially home curfews imposed on terror suspects – one of the most sensitive civil liberty issues for ministers.
---
Follow Stories Like This
Get the Monitor stories you care about delivered to your inbox.