France and Britain forge new path with defense treaty
France and Britain inked a defense treaty Tuesday that will allow sharing of nuclear secrets and the creation of a rapid-reaction force. President Sarkozy called the accord 'unprecedented.'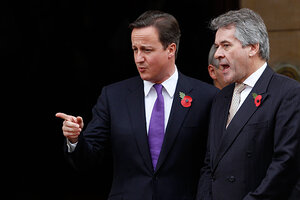 Suzanne Plunkett/Reuters
The new spirit of European austerity reached the French and UK militaries as leaders of the two nations agreed today on joint commands and nuclear testing cooperation.
"Today, we open a new chapter in a long history of cooperation on defense and security between Britain and France," said British Prime Minister David Cameron as the ink dried on a treaty signed in London.
The Franco-British treaty is apt for "a world where resources are tight," said British Defense chief Liam Fox.
The deal amounts to the first steps in a new Anglo-French military relationship that will mean sharing nuclear secrets and the creation of a rapid-reaction force, the 6,500-strong Combined Joint Expeditionary Force.
French President Nicolas Sarkozy called the deal "unprecedented … showing a level of trust and confidence between our two nations which is unequaled in history."
The treaty speaks more to a political and diplomatic entente, analysts say, than to any immediate military synchronization. It marks the end of the bitter disagreement over the Iraq war, which France refused to participate in. The signing ceremony today hearkened back to the 1904 Entente Cordiale, in which France and England put old animosities behind them.
The deal could more tightly bond the two largest military powers in Europe – even as the center of economic gravity and political power on the Continent shifts to Germany.
---