Georgia nabs Russian 'spy ring,' angering Moscow
Georgia on Friday accused 13 people, including four Russians, of spying for Russia after a four-year investigation.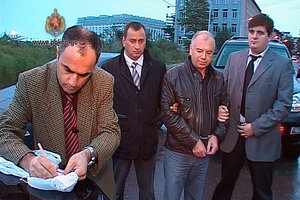 Georgian Interior Ministry/Reuters
Georgia on Friday accused 13 people, including four Russian citizens, of passing information to Russia's GRU military spy agency during the brief August 2008 war between the two countries.
Russian Deputy Foreign Minister Grigory Karasin immediately denounced the Georgian claims as "a political farce." The charges, rumors about which first started circulating a week ago, have struck many as bizarre. But most analysts see at least some truth in the charges, though they caution that the broader domestic and regional dynamics involved must be factored in.
"Of course spies exist, but there is also a propaganda side to this," says Alexander Iskanderyan, director of the independent Caucasus Institute in Yerevan, Armenia. "Georgian authorities constantly utilize Russia as an 'enemy image' and try to tar their domestic political opponents with this brush. You have to take these stories with a grain of salt."
Four-year investigation
In a press conference announcing the arrests Friday, Georgian officials said the investigation into the alleged spy ring had been going on "for years."
---