In Spain, Pope Benedict XVI lambasts 'aggressive secularism'
Pope Benedict XVI tried to rally loyalists against 'aggressive secularism' this weekend during a visit to the traditional Catholic stronghold of Spain.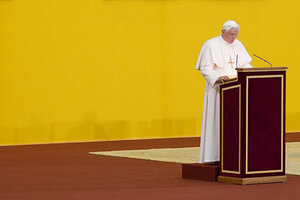 Daniel Ochoa de Olza/AP
Pope Benedict XVI spent this weekend in Spain trying to reclaim one of the most important Roman Catholic strongholds.
During his visit, he surprised Spain with strong words against what he described as "aggressive secularism" on the part of the government that since 2004 has legalized gay marriage, relaxed abortion legislation, and eliminated compulsory religious education in schools.
"The renaissance of modern Catholicism comes mostly thanks to Spain. But it is also true that laicism, a strong and aggressive secularism was born in Spain, as we saw in the 1930s," the Pope said on board his plane just before arriving in the northwestern coastal city of Santiago de Compostela. "This dispute is happening again in Spain today. The future of faith and the relations between faith and secularism have Spanish culture as its epicenter."
IN PICTURES: Pope Benedict XVI
While officially consecrating Barcelona's Sagrada Familia church as a basilica on Sunday, the pope continued his push.
"The Church opposes all forms that negate human life and supports everything that supports the natural order in the realm of institution of the family," he told the 6,500 people inside, almost a fifth of them from the clergy.
But the low turnout to see Benedict XVI on his second visit to Spain as pope seemed to illustrate his concern that Europe is shedding its Catholic roots.
---