Russian journalist's beating signals looming Medvedev-Putin battle
Saturday's brutal beating of Oleg Kashin highlights not only a withering of press freedom in Russia but also a broader effort to silence dissent ahead of 2012 elections.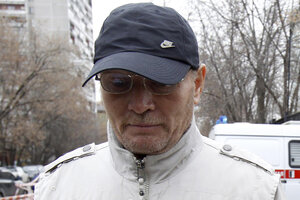 Sergei Karpukhin/Reuters
Russian journalists are demanding the Kremlin take urgent action after yet another member of the country's beleaguered independent press corps, Kommersant reporter Oleg Kashin, was brutally beaten outside his Moscow apartment Saturday morning.
While Russian journalists have faced a string of attacks, including a number of prominent murders in recent years, some analysts suggest that the attack on Mr. Kashin may represent more than just another case of an independent Russian journalist getting savaged in the line of work.
Many other recent signals, including a bizarre public battle leading up to the sacking of longtime Moscow Mayor Yury Luzhkov, suggest that a subterranean power struggle between Russia's political titans may be gathering momentum ahead of 2012 presidential elections. The Kremlin inner circle must soon choose whether to back incumbent President Dmitry Medvedev or his mentor, Prime Minister Vladimir Putin, as the establishment candidate for presidential elections in 2012, and diverse interests appear to be lining up behind each.
---