In China, Britain's Cameron aims to boost trade ties but can't escape human rights issue
Chinese artist Ai Weiwei, who was recently placed under house arrest, called on British Prime Minister David Cameron to raise the issue of human rights during his trip this week to Beijing.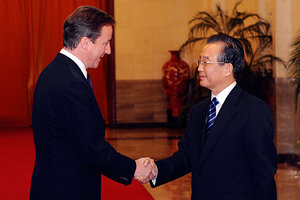 Stefan Rousseau/Reuters
On the heels of French and Portuguese delegations last week, the largest ever British mission to Beijing set to work Tuesday, hoping to ease its deep domestic woes with better trade relations with China.
Following the return of Hong Kong to Chinese rule in 1997, Britain's historical tensions with China have eased in recent years. What's more, Beijing is eager to to boost bilateral links against the backdrop of relative friction with the US.
David Cameron had barely touched down in the Chinese capital, however, when a persistent fault line in China's engagement with the west emerged – its human rights record. Mr. Cameron is coming under mounting pressure to speak out on the issue.
"You owe Chinese people, the people who sacrifice their rights," said one of China's best known artists, Ai Weiwei, who used a BBC interview Tuesday to make a direct plea to the British premier.
---