Why Italy's government may be on the brink of collapse
In the wake of recent scandals, Italian Prime Minister Silvio Berlusconi faces an increasing number of political attacks. His government may soon not have enough parliamentary support to survive.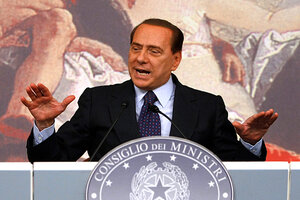 Pier Paolo Cito/AP
Italian Prime Minister Silvio Berlusconi's days may be numbered. After waves of personal scandals and strong attacks from the progressive opposition, Italy's embattled premier is now facing a much stronger threat from within his right-wing coalition.
Last week, Mr. Berlusconi was accused of having an affair with the 17-year-old daughter of Egyptian immigrants. Berlusconi was also accused of abuse of power when he apparently helped the young woman, who was arrested for petty theft. Berlusconi allegedly secured her release from jail by telling officials that she was related to Egypt's President Hosni Mubarak.
This wasn't the first time Berlusconi has faced accusations of having an affair with a minor. And it wasn't this latest scandal that led to the critical split within his ruling Freedom Party.
Former key ally and head of Parliament, Gianfranco Fini, split with Berlusconi and founded his own conservative party, Future and Liberty, over allegations that the prime minister attempted to alter the justice system in order to avoid his own trials. "We cannot tolerate laws [laws made for the benefit of a particular person]," said Mr. Fini.
Now, Mr. Berlusconi may simply not have the numbers to keep his government alive. According to Italy's political system, its executive branch must hold the majority in the legislative body.
---