A reeling bond market has EU members pushing for Ireland bailout
An Ireland bailout is possible after government bonds tumbled in recent weeks. The country is under pressure to accept a $100 billion bailout that could prove a bitter pill for the former 'Celtic Tiger.'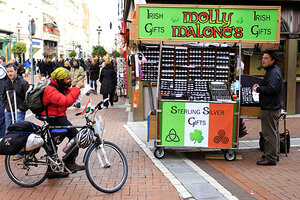 Peter Morrison/AP
European nations were slow to bail-out bankrupt Greece last spring but are now pressing debt-addled Ireland to take a $100 billion stability fund check over Irish objections.
The government insists it has the funds to cover Ireland's debts till next summer and insists it will find more conventional ways to avoid default beyond then. As a stop-gap, it's seeking a smaller amount of EU aid that won't be accompanied by tough limits on government spending and a potential increase in low corporate tax-rates that helped fuel the high-flying "Celtic Tiger" economic model that has come crashing down in recent years.
The issue will heat up tomorrow ahead of an EU finance ministers' meeting on preventing the bad-debt crisis that has hobbled the Irish economy from spreading to larger eurozone countries like Spain and Italy, which have debt problems of their own.
Whether Ireland will get its way remains to be seen. EU officials have been discussing a bailout in the wake of a 13-day Irish bond-sell off that only eased at the end of last week. Since June, the yield on Ireland's benchmark 10-year bond has increased from below 5 percent to about 8 percent, reflecting a dramatic increase in investor fears of an Irish default. In recent weeks the yield has been as high as 9 percent -- a record since Ireland adopted the euro in 1999.
---