Obama's US-Russia reset hangs on Senate approval of START treaty
If Obama fails to make good on his weekend vow to get Senate approval of the START nuclear arms control by January, Russia could turn toward China.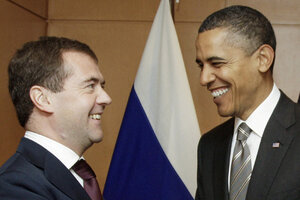 Dmitry Astakhov/Presidential Press Service/RIA Novosti/AP
President Obama has pledged to make it a top priority to get US Senate approval for the START nuclear arms reduction treaty that he signed with Russian President Dmitry Medvedev in April, and he says it must get done during the current lame-duck session of Congress.
The Russians, who have pinned a lot of their own foreign policy calculations on the success of the treaty, are watching nervously and signaling that future cooperation in trouble zones like Korea, Iran, and Afghanistan is at stake if Mr. Obama fails.
Nuclear arms control is the single area where Russians feel they can sit down and talk with Americans as equals, and Obama's decision last year to make START the engine driving his effort to improve US-Russian relations means that if it stalls now, the entire effort could collapse.
"The START accord was the key result of Obama's policy of 'resetting' relations with Russia, and if it doesn't get ratified it means that the whole concept will have to be rethought," says Viktor Kremeniuk, deputy director of the official Institute of USA-Canada Studies in Moscow.
---