Sarkozy cabinet reshuffle aims to capture Gaullist fields of French right
French President Nicolas Sarkozy's cabinet reshuffle Sunday shows an Elysée Palace with a sharp eye on the 2012 elections. Sarkozy's ratings are at a historic low.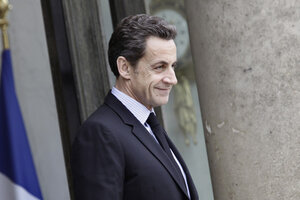 Thibault Camus/AP Photo
Nicolas Sarkozy's election in 2007 brought a mixed set of left-wing ministers to his cabinet, including some high-profile female minority figures, a rarity in political life here. It played as a smart move to "co-opt" or nullify the left in France.
But a cabinet reshuffle yesterday shows an Elysée Palace ready to capture the Gaullist fields of the French right ahead of 2012 elections. Mr. Sarkozy jettisoned his Socialist Foreign Minister Bernard Kouchner and the Algerian-origin Urban Minister Fadela Amara, and gave the Defense Ministry and No. 2 cabinet spot to Alain Juppe, prime minister under former President Jacques Chirac.
In a surprise, Sarkozy retained Prime Minister François Fillon, which has played here as a presidential nod through clenched teeth, given that Mr. Fillon has higher approval than the president. Sarkozy had been ready to offer the prime minister spot to Jean Louis Borloo, a centrist with ties to the left. But with Sarkozy's ratings at a historic low, the palace did not dismiss the current prime minister; "Fillon Keeps Sarkozy" was the cheeky headline in today's left-leaning Liberation newspaper.
Sarkozy retained Finance Minister Christine Lagarde, who said today that the reshuffle is "totally revolutionary" and marks a "360-degree turn" toward "solidity and professionalism."
Long-awaited move
The reshuffle has been long awaited. Sarkozy chose the weekend after the Group of 20 economic meeting in Seoul – he presides over next year's G20 and is expected to propose a set of global financial reforms – to announce the changes.
---