Royal wedding: Prince William to marry Kate Middleton
Prince William's marriage next year to his college sweetheart, Kate Middleton, will also bring cheer to Britain amid economic woes – just as his parents' wedding did in 1981.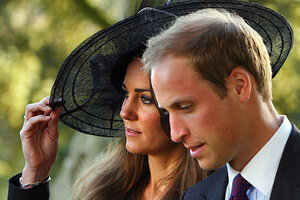 Chris Ison/pa/AP
Wearied by a daily diet of news about the economy and even harder times ahead, many Britons finally feel they have something to cheer about: the biggest and most important royal wedding for three decades will take place next year.
Amid increasing speculation, the announcement finally came through Tuesday that Prince William is to marry his girlfriend, Kate Middleton.
William, the Queen's eldest grandson and second in line to the throne after his father, Charles, became engaged in October during a private holiday in Kenya, a statement issued by his father's office confirmed.
"The Prince of Wales is delighted to announce the engagement of Prince William to Miss Catherine Middleton," said the statement. "The wedding will take place in the spring or summer of 2011, in London. Further details about the wedding day will be announced in due course."
Parallels with Charles & Diana's 1981 wedding
At a very basic level, the news will calm the nerves of some royalists who may have began to wonder if 'Wills' was ever going to pop the question to the woman he began dating eight years ago while studying at Scotland's St. Andrews University. Seemingly endowed with almost superhuman reserves of patience, as far as some sections of the press were concerned, they had began to dub her as "Waity Katie."

However, the timing of when the wedding comes packed with symbolism. They will marry in the year that would have marked the 30th anniversary of William's parents' wedding. Back then, images of Charles and his young bride, Diana, distracted many at a time when Britain was in severe recession.
---