Ireland's $90 billion question: Does it need a bailout?
Ireland is set to host EU and IMF officials Thursday in ongoing talks about a bailout for the debt-stricken nation.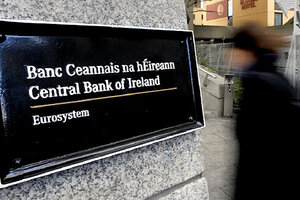 Peter Morrison/AP
The Irish continue to play high-stakes hopscotch with the European Union. While Ireland has agreed to host a delegation of EU experts and International Monetary Fund officials tomorrow in preparation for a bailout package, it still insists it does not need one.
Amid heavy pressure at an EU finance ministers meeting today that was intended to convince Ireland to take a major Greek-style bailout, Ireland said it needed only a loan to bolster its troubled banking sector, which is saddled with at least $90 billion in bad debt due to Ireland's real estate market collapse.
But the Irish crisis is further straining a union of nations tied together by a single currency rather than a single political structure. Echoing this sentiment, EU chief Herman Van Rompuy claimed that nothing less than the future of the EU is at stake in the Irish debt crisis, which is continuing to shake investor confidence. The euro traded against the dollar today at a seven-week low.
But others are questioning the main premise behind the bailout – that it would keep markets stable and protect debt-strapped nations like Spain and Italy.
---