NATO's Lisbon meeting agenda: Afghan withdrawal and emerging threats
A NATO meeting in Lisbon Friday will redefine the organization for 21st century threats. But Afghanistan will also be a focus as Karzai has stepped up criticism of NATO.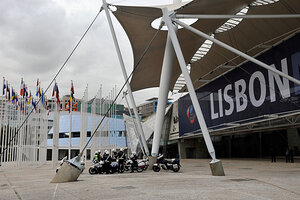 AP
NATO leaders meet here Friday to define a new mission statement, a task the North Atlantic Treaty Organization has not undertaken since before the 9/11 terrorist attacks. In addition to traditional security concerns, the agenda will cover the advent of so-called cyber terrorism, and the emergence of new threats to alliance members such as ballistic missiles in Iran.
For US Ambassador to NATO Ivo Daalder, the goal of the NATO summit and the new "strategic concept" it is expected to deliver is nothing short of a "revitalization of NATO for the 21st century" by endowing the 28-nation alliance with "a new vision, new capabilities, and a new organization."
But at the same time NATO leaders, including President Barack Obama, will grapple with Afghanistan and the problem of how and when to end the Alliance's nearly decade-old military campaign there.
A pre-summit spat in Kabul this week between Afghan President Hamid Karzai and NATO's supreme commander in Afghanistan, Gen. David Petraeus, over a recent uptick in Special Operations' night raids of Afghan homes has renewed the perennial frustration at working with Mr. Karzai and will punctuate the deliberations.
---