What a $100 billion EU aid package means for Ireland
Ireland is negotiating with the European finance officials over an aid package that could come with strings attached.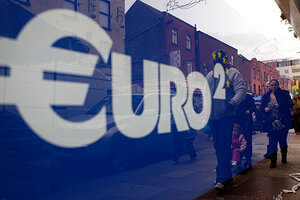 Cathal McNaughton/Reuters
Despite a week of firm denials, Ireland is now in negotiations with the European Union about a joint European Central Bank (ECB) and International Monetary Fund (IMF) aid package worth as much as $100 billion for its stricken economy.
IMF and ECB officials led by Ajai Chopra arrived in Dublin today to meet with the government and are pouring over the nation's account books. Mr. Chopra is deputy director of the IMF's European operations.
Minister for Finance Brian Lenihan said the Irish government could accept an aid package for the banks, after preliminary talks in Dublin with officials.
Others, however, have gone further. Speaking on Irish radio this morning, Patrick Honahan, the governor of the country's own central bank, said he expects the Irish government to accept a "very substantial" loan.
"A loan will be made available and drawn down, as necessary," he said.
"It will be a large loan because the purpose of the amount to be advanced or to be made available to be borrowed is to show Ireland has sufficient firepower to deal with any concerns of the market. We're talking about a very substantial loan, for sure," he told national broadcaster RTÉ.
---