NATO targets terrorism, cybersecurity as central to 21st century mission
At its summit in Lisbon, NATO adopted a 'strategic concept' that sustains a nuclear deterrent – but also focuses on new challenges like cybersecurity and failed states.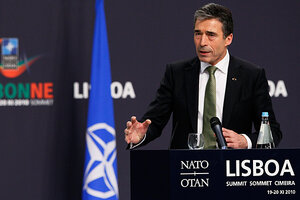 Yves Herman/Reuters
NATO on Friday adopted a "plan of action" for 21st-century security threats that draws on both the recent lessons of Afghanistan and the alliance's longer experience with defense by deterrence.
The new "strategic concept," which is NATO's first mission statement in more than a decade, elevates the role of political and civilian answers to security challenges. For the first time, for example, the military alliance will create a small civilian component to assist the military side in future interventions such as the one in Afghanistan.
But the 11-page statement, which is concise by NATO standards, also makes clear that the Atlantic alliance will maintain its nuclear deterrent to ward off conventional threats even as it adapts to face newer challenges like cybersecurity, terrorism, and failed states.
Related: New Afghan war plans could cost US taxpayers an extra $125 billion
"This is NATO's road map for the next 10 years," said NATO Secretary General Anders Fogh Rasmussen. As if to answer skeptics who have predicted for months that this year's summit would actually mark NATO's retreat to irrelevance, Mr. Rasmussen added, "This strategic concept will ensure that NATO remains as effective as ever."
Despite a backdrop of falling defense budgets in many of NATO's member states, Rasmussen said NATO will maintain its security function and adopt new tasks by becoming more efficient and pooling resources better. He held up a recent Franco-British accord for coordinating defense functions and sharing military hardware as an "excellent example" of how members can "make better use" of what they have collectively.
Questions about the future of American nuclear weapons in NATO's European countries had threatened to upend a smooth adoption of the new mission statement, which has been in the works for more than a year.
---