Europe greets Pope Benedict's condom remarks as 'evolution, not revolution'
Pope Benedict's view that there might be rare cases where condom use is acceptable comes at a time when the Catholic church's image in Europe has been battered by child abuse scandals.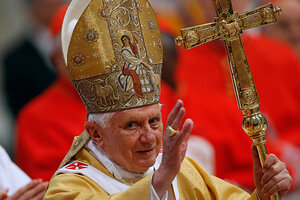 Tony Gentile/Reuters
Vatican officials are insisting that Pope Benedict's new remarks on condoms are not a change in church teaching on contraception. But initial reaction in Europe and among Roman Catholics here is that the first papal acknowledgment of condom use is an important "evolution of theology" and a "liberation" from a church position that many of the Catholic faithful struggle to defend.
Secular Europe is a region that Pope Benedict views as critical to rebuilding Roman Catholicism. The pope's notice of acceptable condom use in some cases, such as by male prostitutes, may be a technically narrow shift; the pope also stated that "fixating on condoms is a trivialization of sexuality."
But given the Vatican's more conservative direction under Benedict, this is being read as a shift from negative to positive language on matters related to sexual behavior – at a time when the public image of the church in Europe is badly damaged over priestly child abuse scandals in Ireland, Germany, and Belgium.
Catholic bishops in Europe noted Monday that the previous pontiff, John Paul II, had never spoken of condoms, and praised Benedict for his courage in doing so.
---
Follow Stories Like This
Get the Monitor stories you care about delivered to your inbox.