How Nobel committee will mark this year's peace prize without recipient Liu Xiaobo
Nobel Peace Prize winner Liu Xiaobo, who is imprisoned in China, is unlikely to be released to attend this year's prize ceremony in Oslo.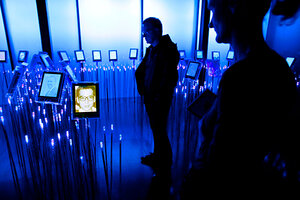 Sara Johannessen/Scanpix Norway/AP
The Norwegian Nobel Committee has made plans for a Peace Prize ceremony this year without the guest of honor. For the first time in 75 years, the chair where the laureate would have sat will be empty. Neither medal nor diploma will be handed over. The laureate will not deliver a speech. The contrast to last year's fanfare when the prize went to President Obama couldn't be sharper.
No one expects Chinese dissident Liu Xiaobo, this year's Nobel laureate, to travel to Oslo City Hall to pick up his award on Dec. 10 in front of 1,000 guests because he remains imprisoned in China. It's also highly unlikely that China will allow anyone to attend in his stead.
As a result, the committee has made a number of changes. In place of the laureate giving a Nobel lecture, the committee has asked Liv Ullman, one of Norway's most famous actresses who appeared in many of Ingmar Bergman films, to read a text from one of Mr. Liu's essays. The only reminder will be a photo of Liu at the front of the stage.
"Since he couldn't come, we decided on a text and we wanted an actor to read this, not a dissident because it becomes seen as a separate laureate," says Geir Lundestad, Norwegian Nobel Institute director.
---