Putin praises DiCaprio as 'real man' after harrowing journey to tiger summit
Actor Leonardo DiCaprio narrowly escaped two plane crashes en route to a five-day tiger summit hosted by Putin, who is no stranger to derring-do himself.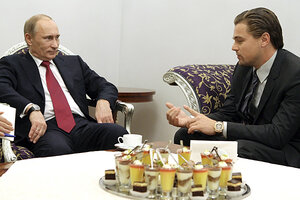 Alexei Druzhinin/Ria Novosti/AP
Leonardo DiCaprio faced his share of airborne thrills and spills playing the legendary airman, tycoon Howard Hughes, in the 2004 bioepic "The Aviator."
But on his way to attend the global "Save the Tiger" summit in St. Petersburg, Russia, Mr. DiCaprio nearly met with real-life aviation disaster twice: first when his Moscow-bound flight had to turn back to New York with its engine reportedly in flames, and again when the private aircraft he chartered was so severely buffeted by winds that it had to make an emergency landing in Finland.
For his perseverance, Russian Prime Minister Vladimir Putin – who knows a thing or two about looking macho – awarded DiCaprio the highest accolade a Russian guy can offer: he called him a nastoyachshi muzhik, which is a particularly rustic way of saying "a real man."
"I would like to thank you for coming," Mr. Putin told the actor when he belatedly arrived Tuesday night, bearing a $1 million gift for the tiger preservation program. (See video.)
---