Britons welcome royal wedding – as long as they don't have to pay
The royal nuptials of Prince William and Kate Middleton is welcomed by Britons – but most say they want a more modest affair that doesn't drain the public purse.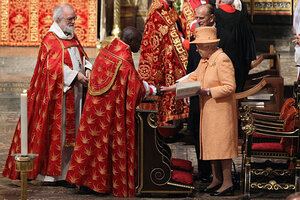 Dan Kitwood/AP
No day goes by now in Britain without a new wave of headlines about next year's royal wedding between Prince William and his sweetheart, Kate Middleton.
Media attention Friday fussed over hints by Elton John that he will sing at the event, 17 years after performing an adapted version of his hit "Candle in the Wind" at the funeral of William's mother, Diana, Princess of Wales.
But now that a venue date has been named for the big day – keep your diary free for April 29 at London's Westminster Abbey, the royals' "local" church – the question of who will foot the bill in an era of austerity is rather tricky.
Mindful of the fact that Britons are still digesting the harshest government spending cuts for generations, William's officials have said that the costs of the wedding would be paid for by the royal family and Middleton's parents, self-made millionaires from an online party-ware business.
"All parties involved in the wedding, not least Prince William and Miss Middleton, want to ensure that a balance is struck between an enjoyable day and the current economic situation," Jamie Lowther-Pinkerton, private secretary to the prince, said Wednesday.
End of story? Not quite.
While "wedding" costs such as paying for the church service will be borne by the families, an estimated £5 million ($7.9 million) security bill for policing an event that is likely to attract tens of thousands of spectators will fall to the taxpayer.
---