Irish protest – sort of – as bailout details emerge
The Irish government says a $112.5 billion bailout will come with a 5.8 percent interest rate. The public appears unhappy with the bailout, but uncertain where to direct its anger.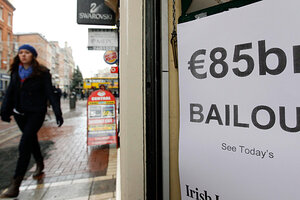 Cathal McNaughton/Reuters
Details emerged Sunday of the joint European Central Bank and International Monetary Fund plan to prop-up Ireland's economy in an effort to keep the euro afloat.
The package, designed to shore up the country's nationalized banks, totals €85 billion ($112.5 billion) and will require Ireland to repay the money at an average interest rate of 5.8 percent over the next seven and a half years.
The plan includes €10 billion for recapitalization of the banks, a further €25 billion to held for banking contingencies, and €50 billion to run the county's public finances.
Prime Minister Brian Cowen, leader of the Fianna Fáil party, said it was the "best deal available" to the country. But opposition figures reacted to the terms of the deal with dismay.
Michael Noonan, the finance spokesperson for main opposition party Fine Gael, said the deal was "a hugely disappointing result for the country." Labor party finance spokesperson Joan Burton said the country was "banjaxed" – Irish slang for "ruined."
Gerry Adams, leader of Sinn Féin, also described it as a bad deal. "The decision to protect bondholders is disgraceful. The costs of this deal to ordinary people will result in hugely damaging cuts," he said.
---