WikiLeaks: Russians smell anti-Obama conspiracy
In Russia, where spreading misinformation is integral to the political culture, the latest WikiLeaks release of more than 250,000 diplomatic cables is being seen as an attempt to smear President Obama.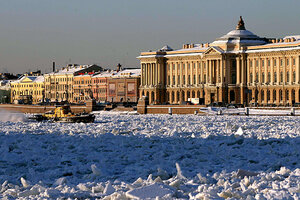 Alexander Demianchuk/Reuters
In Russia, the motherland of conspiracy theories, almost no one believes that Julian Assange and WikiLeaks are free agents acting on a desire to crack official secrecy and broaden the horizons of public awareness.
Although the more than a quarter-million secret US diplomatic cables spilled into cyberspace by WikiLeaks on Sunday include just 3,337 reports prepared by the US Embassy in Moscow, many Russians are already viewing it as part of a plot by American hardliners to discredit President Obama and, perhaps, to undermine his fragile efforts to "reset" US-Russia relations.
In Russian political culture, the secret services, Kremlin leaders, and business oligarchs have long practiced the dark arts of kompromat, spreading misinformation to blacken opponents' reputations and influence public moods. So they suspect that there has to be something or someone with a hidden agenda standing behind WikiLeaks.
---