Medvedev misses chance to disprove WikiLeaks label: 'Robin to Putin's Batman'
Russian President Dmitry Medvedev, criticized in a WikiLeaks cable as marginal, avoided sensitive topics in his national address today.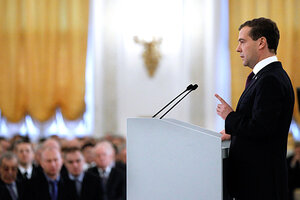 Dmitry Astakhov/RIA Novosti/Kremlin/Reuters
Russian President Dmitry Medvedev today pitched a better life for all Russians, and warned of a possible new arms race with the West, in his scheduled State of the Nation address to a joint session of Russia's parliament.
The speech, an annual affair used by Mr. Medvedev last year to roll out his signature policy of "modernization", was delivered amid rumors of escalating competition between himself and Prime Minister Vladimir Putin to run as the establishment candidate in presidential polls that are now barely 16 months away.
Hence, many Russians intently parsed this speech for some dramatic move by Medvedev to distance himself from his more nationalistic and authoritarian predecessor and current rival, or some sort of rallying cry for his expected presidential re-election bid.
Supporters saw a smart presidential candidate tactically avoiding sensitive topics, while critics saw a man paralyzed by Putin's enduring power – a view strongly supported by a diplomatic cable just released by WikiLeaks.
Medvedev's vision: Better social services, and a Silicon Valley
Speaking to a Kremlin audience that included the cream of Russia's political elite and a poker-faced Mr. Putin, Medvedev steered away from most controversial issues and instead conjured up a wish list of material improvements.
---