World AIDS Day 2010: France's Carla Bruni lauds pope for condom comments
On World AIDS Day, French first lady Carla Bruni says she's 'grateful' for Pope Benedict XVI's condom statements, which are giving the Roman Catholic Church some positive attention following its devastating sex scandals.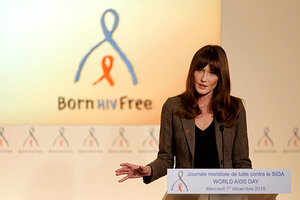 Benoit Tessier/Reuters
France's first lady Carla Bruni not only agrees with Pope Benedict XVI's new statements on condom use, she is "astonished, surprised, and grateful."
Ms. Bruni lauded Pope Benedict on World AIDS Day after the pontiff last month said using condoms was acceptable in cases that risked the spread of disease.
"A certain number of African countries are Christian and listen a lot to the word of the pope. I think that this is a giant step toward something very new," said Bruni, an artist and former fashion model who is married to French President Nicolas Sarkozy and works as an AIDS awareness ambassador for the Global Fund to Fight AIDS, Tuberculosis, and Malaria.
The celebrity endorsement is the latest example of positive headlines for the Vatican in a year of devastating child abuse scandals. Moreover, despite controversy in and out of the Roman Catholic Church over the pope's remarks (he used a prostitute as an example of condom use), it's further evidence that his comments are being popularly read as an important shift on a deeply unpopular teaching.
---