Why Britain is likely to send WikiLeaks' Assange to Sweden on rape charges
The legal team of WikiLeaks founder Julian Assange may fight his potential extradition to Sweden on human rights grounds, but it's unlikely Mr. Assange will avoid it, say legal experts.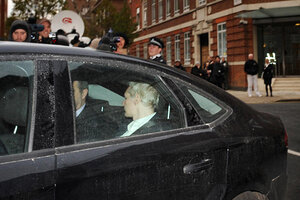 Stefan Rousseau/PA/AP
A shadow hung over the future of the WikiLeaks website Tuesday after its founder and guiding force, Julian Assange, surrendered to British police as part of a sex-crimes investigation in Sweden.
The Australian, who was the subject of a European Arrest Warrant (EAW) issued by Swedish authorities, denies allegations that he sexually assaulted two women and has hinted that the charges are part of a smear campaign by those eager to halt his website's ongoing release of secret US government documents.
The early indications are that his legal team will contest his extradition on grounds such as the failure of Swedish authorities to provide him with adequate details of the warrant issued there.
RELATED - WikiLeaks: Five more of the strangest stories to emerge
The team may also fight the extradition on human rights grounds – including that Assange could be unfairly deprived of his liberty in Sweden and that the massive media attention would make it even more difficult for him to have a fair trial.
But it's unlikely that Assange will avoid extradition, say legal experts. And the legal process in Britain is likely to be rapid, thanks to the EAW system, which was introduced in 2004 to allow for the fairly prompt transfer of suspects from one European country to another.
---