Nobel Prize committee to China: A growing world power needs to handle criticism better
Following months of Chinese pressure, 19 countries plan to boycott tomorrow's Nobel Peace Prize ceremony honoring imprisoned Chinese dissident Liu Xiaobo.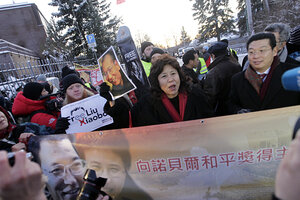 Morten Holm/Scanpix/AP
On the eve of the Nobel Peace Prize ceremony honoring imprisoned Chinese dissident Liu Xiaobo, the Norwegian Nobel Committee today reproached China for not showing the equanimity expected of a major world power.
Thorbjørn Jagland, the committee's chairman, said in a press conference that this was not a prize against China, but that China's status as growing global power brought with it the responsibility to handle debate and criticism, citing US involvement in the Vietnam War as an example.
He added that China needed to combine further economic development with political reforms to avoid a socioeconomic crisis in the country.
Test your Nobel Peace Prize knowledge. Take our quiz.
"We strongly believe that the world as a whole should be very concerned about the future of China," said Mr. Jagland. "With its 1.3 billion people, one could say that to a large extent the fate of China will be the fate of the world."
Amnesty's bid for 100,000 signatures falls short
The Chinese have reacted angrily at Norway for the committee's decision to award the prize to Mr. Liu, who has been sentenced for 11 years for "inciting subversion of state power." Beijing sees the prize as a critique against its judicial system and has warned repeatedly that Norwegian-Sino relations would suffer as a result.
---
Follow Stories Like This
Get the Monitor stories you care about delivered to your inbox.