What Glenn Beck and WikiLeaks' Julian Assange have in common
The philosophy that appears to drive WikiLeaks' Julian Assange lies in a deep-seated distrust of governments – something that bridges any left-right divide.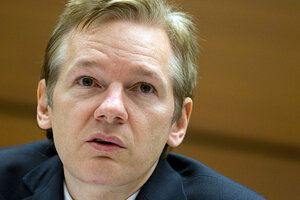 Salvatore Di Nolfi/Keystone/AP
Julian Assange, the WikiLeaks founder now in a London jail awaiting possible deportation to Sweden to face sexual assault allegations, has in short order become one of the most polarizing figures in the world.
He is reviled by members of the United States government yet regarded as a hero by millions who see him as striking a blow at Washington and other entrenched powers by revealing their activities to the light of day.
But while his politics certainly appear to lean left, his supporters don't fall into any sort of neat category. Instead, Mr. Assange is finding support from the conspiratorially minded, whatever their political persuasion.
Take one of Assange's most unlikely defenders, the Fox television personality Glenn Beck.
Mr. Beck, with his fulminations about socialist conspiracies at the heart of the Obama administration and warnings about a "shadow government" behind President Obama seeking to deprive Americans of their liberties, is rarely mistaken for a lefty.
Yet his deep distrust of government puts him on similiar grounds to Assange.
---