At Nobel Peace Prize ceremony, recipient Liu Xiaobo represented only by his words
Nobel Peace Prize winner Liu Xiaobo, a jailed Chinese dissident, was honored in absentia today in Oslo, the first time in 75 years that no one was present to represent the laureate.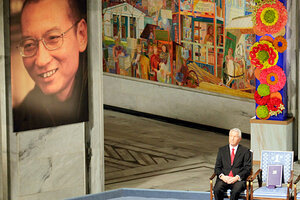 John McConnico/AP
Scores of supporters for Liu Xiaobo, this year's Nobel Peace Prize laureate, shouted calls for democracy in China as guests arrived for this year's controversial award ceremony in Oslo City Hall.
The demonstrators stood behind police barricades while about 20 pro-China protestors – 100 were anticipated – gathered a few blocks away with three giant white banners in Norwegian and Chinese and small yellow handwritten signs stating "Law Breaker = Peace Prize Laureate?!" and "Peace Prize = Political Tool."
The decision to award the prize this year to an imprisoned Chinese dissident has aroused strong reaction in China and prompted the protest led today by the Norway-China Association.
Beijing is angry at the Norwegian Nobel Committee for awarding the prize to a "criminal," who was sentenced to 11 years in prison for "inciting subversion of state power" after co-authoring the political manifest Charter 08.
Yaming Yuen, leader of the Norway-China Association, said he disagreed with statements made by Thorbjørn Jagland, Norwegian Nobel Committee chairman, during a press conference yesterday that the decision to give the prize to Liu was not a prize against China.
"He has totally misunderstood everything," says Mr. Yaming. "He has to travel to China to understand."
In his opening ceremony speech for this year's Nobel Peace Prize, Mr. Jagland praised China for the country's recent achievements, while warning efforts to quash freedom of expression could lead to corruption.
---