Spain acts tough on debt, but investors say 'situation could still get ugly'
Spain has slashed government spending amid a stagnant economy and 20 percent unemployment. But investors aren't yet fully convinced that Europe's fifth largest economy is out of the woods.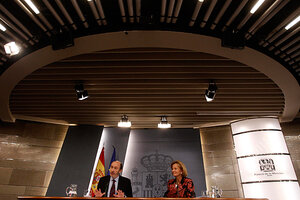 Andrea Comas/Reuters
Spain's effort to convince financial markets it will weather its worst economic crisis in decades without needing a bailout is falling on deaf ears.
Finance Minister Elena Salgado reiterated Friday that "there's nothing in our economic situation indicating that we would need to ask for financial assistance from abroad." Yet as she said this, yields on Spanish government debt rose to near record highs, increasing Spain's borrowing costs.
The consensus view among economists in Spain is that a government default is highly unlikely. But the chance of it – however slight – is a major concern for Europe. Has the Spanish bull of yore shed its horns or will it bounce back as the government insists? The country is Europe's fifth-largest economy and a pillar of the 16-member euro zone's stability. If Spain has to be rescued like Greece and Ireland, the euro currency could be at stake.
---